Secretary's Message
---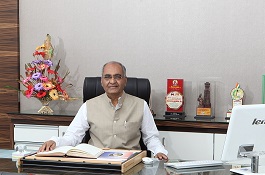 Mr. Padmakar H. Mulay
The institute is committed to creating an ambience for nurturing innovation, creativity and excellence in our students. We strongly support interdisciplinary research and development for the benefit of Industry and Society. CSMSS is an institution that aims at the complete development of the student and our staff are hand-picked and trained to ensure that the students are given every possible support in all their endeavor's, academic or otherwise. It is a multidisciplinary institution and this also ensures that the students have ready access to a wide range of academic material.
Sports and other co-curricular activities are encouraged and the students are given every form of support to develop their talents in all fields. Our brand of education does not have narrow horizons, we believe in exposure. Our students are encouraged to widen their knowledge base and study beyond the confines of the syllabus. This is evidenced by the extensive library facilities in the college, both physical and virtual. In this age of technology, knowledge is just a click away and we ensure that every student of the college has only the best of technology at his/her disposal. The comfort and health of the student community, both mental and physical, are given utmost importance. A student of CSMSS will lack nothing in terms of support from the management and staff. We aim to lend a gentle guiding hand so that our students recognize their inner potential and grow of their own accord into stalwarts of tomorrow's society. With best wishes!!
Director's Profile
---
Shri. Padmakar H Mulay, 66 years, is well known Educationist, Agriculturist & Industrialist with 25 years of rich Experience in Education Industry, more than 37 years of experience in Construction, Agriculture (Seed Research & Development and Agro based products) and Sugar Industry. Born to an Agriculturalist family, Mr. Mulay studied Engineering & started his career in Construction field with their own family business group MBL (Mulay Brothers Ltd) then he established his own Business group named as "Padmakar Mulay Group of Companies", expanded his business in various fields such as Sugar Industry Seed Industry, Constructions, Information Technology, Advertising & Media, Education Industry 8. Power. With the Guidance of Shri. P. H Mulay, Son Mr.Ranjeet Mulay & Mr. Sameer Mulay is a well- known young business icons has translated the vision of Shri. Padmakar Mulay into reality by intensified various business within short span.